If you think about opportunities to become successful quickly with your business, mobile apps is one good option. However, many people don't know how to create apps. Programming sounds something way too challenging that only those with some magical talent can do.
That is the reason Appsmoment was created. It was created to help you to make new mobile apps easily without programming skills. In this Appsmoment Review I am going to share you what is Appsmoment all about and what kind of features it offers for you (You can start it for free).
Name: AppsMoment


Website: www.AppsMoment.com
Price: Free to Get Started
Field: Mobile App Maker
Overall Rank: 95 out of 100
How to Make Money with AppsMoment?
The process of making money with app is simple. I give you a path with 5 action steps:
1.You can create your app by choosing from about 300 different templates.
2.Then you can create your own brand or logo without any technical skills.
3.You can publish your app with just a few clicks in the biggest app stores: iPhone, Google, Windows and Amazon store are all included.
4.You can monetize your app with a few different ways. You can place ads even to free ads and start earning income. Then you can also set a price to your app and you earn something every time when somebody buys your app. Or you can set in-app purchases so you earn money when somebody buys something inside of your app.
5.After monetizing and publishing your app you can see how many people are installing it, how much they use it and much more throuhg AppsMoment analytics. You can also communicate with app users even when they are not using the app with push notification. AppsMoment Publisher gives you unlimited amount of push notifications so you can easily remind app users if you made any updates or you want them to use the app again.

How to Learn to Use AppsMoment?
In Youtube there are already more than 150 videos in Appsmoment channel that are made to teach you how to use Appsmoment to build apps and to generate income. Below as an example is a video called Appsmoment Academy Lesson 1:
These videos will guide you through everything you will need to know about using their program. Here are some topics of the videos:
How And Where To Start With AppsMoment.com

What is the Fastest Way To Make Money With Apps
How to Start Apps Business
How to Start and Grow Your Application Business
How to Make Video Streaming Application?
eCommerce Apps – AppsMoment Academy
So, these videos will be very helpful when you are a beginner in a mobile app business. They will definitely give you lots of new knowledge and skills from a successful app-maker. The creator of AppsMoment has achieved to freedom to live anywhere he wants because he can run his mobile app business anywhere in the world where he just has an Internet connection.
Who is AppsMoment For?
AppsMoment is for anyone who wants to create mobile apps and especially for those who want to make money by creating apps. It doesn't require programming skills because their features makes app creation a breeze.
If you don't want to pay anything that's also fine because there is a free option too. You can create your own mobile app for free and see how it feels to be an app creator. Think how cool it sounds when you tell your friends that you just created your first mobile app ;).
AppsMoment Support
You can contact AppsMoment support by creating a support ticket and they promise come up to you within 24 hours or less. There is also F.A.Q. -section where you can also find an answer to most your questions. Or if you have something that you are thinking about AppsMoment, just leave a comment below and I will give you an answer.
AppsMoment Pricing
Cheap price is one of the best benefits of AppsMoment. I thought that this kind of service would cost something like $30/month minimum but as you can see in the picture below you can get started for free.
There are 5 different price options depending on your goals and needs.
Do You Want a
FREE
& Easy-to-Follow
7-Day Course
to
Make Money Online
for Beginners?
Easy-to-Follow

Beginner-Friendly

My Personal 1-on-1 Support for You
Get Started for FREE Below Before this offer goes away!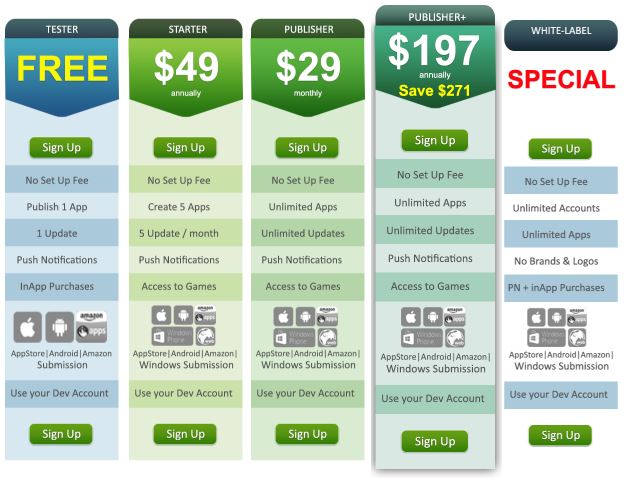 With free tester account you can create and publish one app. It will get you started and give you a good taste of how AppsMoment works.
Then with a starter account you are able to create 5 apps and there are 5 updates available every month. The price is only $40/year which makes it only $4/month It is more or less the same as the price of a Latte in Starbucks. So practically that version is almost free.
With an annual plan Publisher account costs $197/year you will can publish unlimited amount of apps and unlimited updates. You can think buying AppsMoment as an investment to your education and to your business if you are going to make money with it. There can be a very profitable ROI if you become successful with online apps.
The price is AppsMoment is not expensive at all if you compare it to other app makers and think how many features there are.
Pros & Cons
Pros:
Free to get started
Create mobile apps easily
You can publish your apps in Apple's App Store, Google's Play Store, Windows Store and Amazon Store to maximize your revenue
Tons of template to choose from
AppsMoment is improving constantly with new updates
Cons:
AppsMoment is "only" 4 years old

My Final Opinion of AppsMoment
In my opinion, AppsMoment is a wonderful way to get started in app creation industry. It's hugely growing field because smartphones are still very new thing. You can compare it to the Internet. Those who started 10 years ago as an Internet marketers are already big gurus and very experienced nowadays. A few years of experience can be a lot in these fields.
At the moment I don't myself focus on app creation because I am concentrating on building my affiliate marketing business. But I consider an app business as a good opportunity in the future because you can do it anywhere in the world where you have an Internet connection. So you are not tied to only one place like in a normal 9-5 job.
If/when I start creating apps I want to be sure that I provide important value for all of the users of my app. You are able to make games with AppsMoment but I would create games only if they are useful. I don't want that people use their life playing games that are useful even though that would make me rich. My mission is always to help people to make their life better.
If you are interested at all, I definitely recommend you to give a try to AppsMoment and create a free account. Then you can see what do you like about all their features and see if you want to go forward with building apps.
AppsMoment at a Glance…
Name: AppsMoment
Website: www.AppsMoment.com
Price: Free to Get Started
Field: Mobile App Maker
Overall Rank: 95 out of 100
VERDICT: LEGIT
Have you created mobile apps yourself? Have you used AppsMoment, other mobile app maker or have you programmed them yourself?
Leave a comment below!