LeasedAdSpace Review
---
Name: Leased Ad Space
Website: www.leasedadspace.com
Price: Starting from $7
Founder: Richard Weberg
Field: Ads/Traffic.
Overall Rank: 60 out of 100 (Check Out My #1 Recommnedation, 98 out of 100)
---
What is LeasedAdSpace All About?
LeasedAdSpace is a platform that offers you ad packages in order to get more traffic to your website. More traffic -> More sales -> More revenue. The process sounds simple and that gives them the opportunity market their service easily. But in reality, the process takes hard work and real effort.
Their service is quite new because it started in April 2016 and it seems that they are currently enlargening their business by creating new ads to sell. Now you can buy for example banner ads, text ads and solo ads (=email ads). You may have heard about similar websites like Traffic Monsoon or Fort Ad Pays that are also selling similar ad packages to their members.
Different Packages in LeasedAdSpace
As I mentioned before they have a different kind of ad packages. Cheapest package costs $7 and the most expensive package is $147. Then you have packages for $17, $27, $47, $67 and $87. Let me give you a few examples what you will get with some of these packages (see the picture below).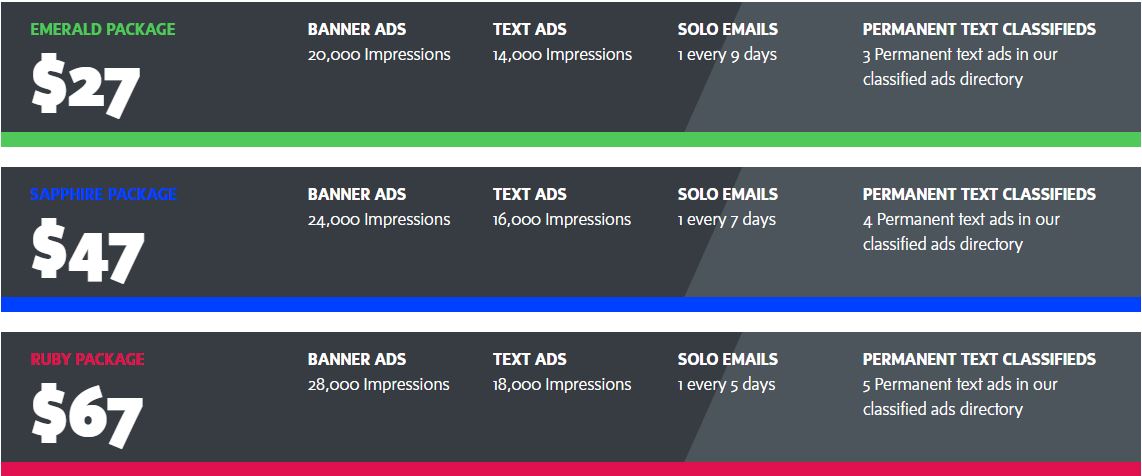 The more you pay, the more impressions and ads you will get. Logical? For example "Emerald Package" for $27 gives you 20,000 impressions with banner ads, 14,000 impressions with text ads and 1 email every 9 days. Those sound like good numbers for a little money. Let's say that you could get even 2 sales worth $29/each with your Emerald Package, it would already be a success.
NOTE: According to their website, you can't buy a more expensive package before than buying a $7 package. Then you must buy new packages one step at a time. I don't know exactly why they have done it like that but I guess the ultimate intention is to milk most money from the members.
MLM/Affiliate-System in LeasedAdSpace?
I guess that when I start talking about MLM, most of my readers are already frightened. "All MLMs are scams, you may be thinking." You may have been seen so many MLM-scams that those 3 letters are like cursing in your ears. I have seen tens of MLMs during my life and 0 of them were worth joining. However, let me explain how this referral system works.

Here is how the system works step by step:
1.In order to earn money from your referrals, you need to buy a package first yourself.
2.You refer LeasedAdSpace to others.
3.They join and buy a product.
4.You earn the commission.
As you can see from the picture above, there is a great earning potential in a referral system. But I believe it can be challenging to get new referrals if you are being honest with the product. I have registered to their system but I am not ready to buy their products nor recommend their system to other people.
Below you can see a video which explains how the compensation plan. But I warn you that this video is strongly promoting LeasedAdSpace with a hope of earning money from new referrals.
Why Am I Doubtful about LeasedAdSpace?
Let's think about how their program is built. The founder built a system that is selling ads for their users saying, "buy ads to get more traffic." The first member joined and bought a package. A next user saw his ads and was thinking, "Hmm… I want that other people could see my ads too. I'll give it a try." Then more people joined with a hope that they could get more traffic with this system.
But who is seeing their ads? Other members! So, your target group is people who are buying ads. Is it a good target group for you? Depends on your niche. But compare to PPC. Then you can target your visitors exactly to those people who are searching your articles.
Of course, LeasedAdSpace may feel like a fast way to big traffic and profits but as we already know that's only HYPE, not reality in the online world. The reality is that you need to work your butt off in order to make a living online. But it can be worth it because you can live anywhere you want in the world and you can be your own boss.
Do You Want a
FREE
& Easy-to-Follow
7-Day Course
to
Make Money Online
for Beginners?
Easy-to-Follow

Beginner-Friendly

My Personal 1-on-1 Support for You
Get Started for FREE Below Before this offer goes away!
Pros & Cons
Pros:
Cheap to get started ($7)
Potential to get traffic to your website
Cons:
Ads are hardly targeted
The company is only 5 months old
Hype around the product
The business model is a bit strange
No guarantees of any income
My Final Opinion of LeasedAdSpace
I need to admit that LAS seems interesting. It costs only $7 to buy the cheapest package and their referral system seems to give you a potential of earning big income. But still, I am quite skeptical that this system would work well. I haven't seen any "big dogs" of the online business world promoting their product.
If I have some extra time I may consider giving them a real try and invest a little money. $7 is still only a price of a pizza so even though their system would be a scam, it wouldn't be a huge loss. In order to earn money with ad packages, you still would need an online business which you are promoting. LeasedAdSpace doesn't teach you how to build one.
But if you are interested in building your very own online business to generate passive income and work anywhere you want, I highly recommend taking a look to Wealthy Affiliate. They don't promise to make you rich overnight but they promise to teach you hand-by-hand what steps you will need to take in order to build an online business. Having your own business allows you to do what you love, anywhere you want, anytime you want. I think that's something to fight for. What about you?
LeasedAdSpace at a Glance…
Name: LeasedAdSpace
Website: www.leasedadspace.com
Price: Starting from $7
Owner: Unknown
Overall Rank: 15 out of 100
Field: Ads/Traffic.
I hope you find my LeasedAdSpace Review useful and it gives you a glimpse what is this relatively new website. I would like to hear if you have experiences of LeasedAdSpaces or any similar products.
If you have any questions or comments, don't hesitate to leave them below and I will be more than happy to give you a personal response.