Today I am going to explain what is LeadsPedia. Do you have a business and you want to track all information about leads, affiliates and calls? Do you want to know where does all traffic come from? Then LeadsPedia may be a good choice for you.
LeadsPedia Review

Name: Leadspedia
Website: www.LeadsPedia.com
Price: 30-day free trial. Then $350/month.
Field: Tracking Software
What Is LeadsPedia?
LeadsPedia is a performance marketing platform that puts a few different tools together. You can track your leads, manage your lists and manage your affiliates with a single platform.
This video quickly explains the idea of Leadspedia in 90 seconds.

John Chow is a famous blogger who took his blogging income from zero to $40,000/month in two years. He said that one of the biggest mistakes people do in Internet marketing is that they forget to track their statistics. Little things on your website or business can make a big change. By changing your theme, placing a call to action, even changing a color of your font can make big changes. The same applies to all other things. Little changes count a lot. But if you are not tracking your statistics, you can never know what works and what doesn't work.
=> Want to earn money by blogging? Check this step-by-step training!
List of Tools in LeadsPedia
As I mentioned before, LeadSpedia brings many tools into a single platform to make your work and management easier. You don't need to jump from platform to platform to manage all that you want to do because you can find many things in LeadsPedia.
Call Routing
Activity Tracking
Affiliate Management
Call Recording
Campaign Management
Lead Capture
Lead Distribution
Lead Nurturing
Lead Scoring
Lead Segmentation
Lead Verification
Source Tracking
The list is quite massive and it tells you that you can do quite a few things with LeadsPedia and it can really boost your business. For example, once you know where your leads are coming, then you can put more effort there in order to get even more leads.
Who is LeadsPedia For?
LeadsPedia is designed for business owners who want to track different statistics of their business in order to grow even more. The price is so expensive that LeadsPedia is not targeted for very small businesses or if you are a beginner in the field.
LeadsPedia is using a professional jargon in their marketing, websites, and tools. It makes them look professional but on the other hand, it's not very effective because it can take some time to understand what they mean with their interesting terms.
There are not many reviews about LeadsPedia on the Internet. One reason is that the company is still quite a new company. The company was founded in 2014 which means 2-3 years ago. According to LinkedIn, they have nowadays 11-50 employees so they are not a very big company yet. But they are working in a growing industry because more and more online businesses are made every year.
Here is one testimonial from LeadsPedia customer:

LeadsPedia Support
In LeadsPedia they have a live chat which is available 24/7. However, they may not come up with an answer instantly. I asked some questions in a Christmas day (25.12.) and the answer didn't come very quickly which is quite natural because is a holiday. But not all providers are on holiday on Christmas. I got support, for example, in Wealthy Affiliate in a Christmas Eve in 15 around minutes (usually it takes only a few minutes there).
Next day (26.12) I checked my email if they have come up with an answer and I found nothing. So my experience of their support wasn't very positive. I guess that they are more willing to serve you when you have paid $350/month or when you have taken a free trial but at least they didn't give a very good first impression.
If you are going to buy a pro plan there is also phone support available.
What Is the Price of LeadsPedia?
You can get a 30-day free trial when you can freely try everything and try how LeadsPedia works.
Then there are two options if you want to continue. The basic plan for $350 and Pro Plan for $750. In my opinion, those prices are very high if you compare for example to Post Affiliate Pro. Of course, LeadsPedia offers more tools than PAP but if you own an affiliate program and want to track all statistics, then Post Affiliate Pro is certainly enough. It's about three times cheaper.
LeadsPedia's benefit is that it allows you to track a huge amount of impressions, clicks, conversions, leads and to do other things. If you count how much the cheaper plan is in a year it makes $4,200/year. Pro plan costs $9,000/year. That's a big amount of money! You could almost hire two full-time employees from India with that price.
Of course, if LeadsPedia helps you to make, for example, $20,000 more money every year, then $9,000/year for a Pro Plan is a very profitable investment. So it really depends on how effectively you can use this tool.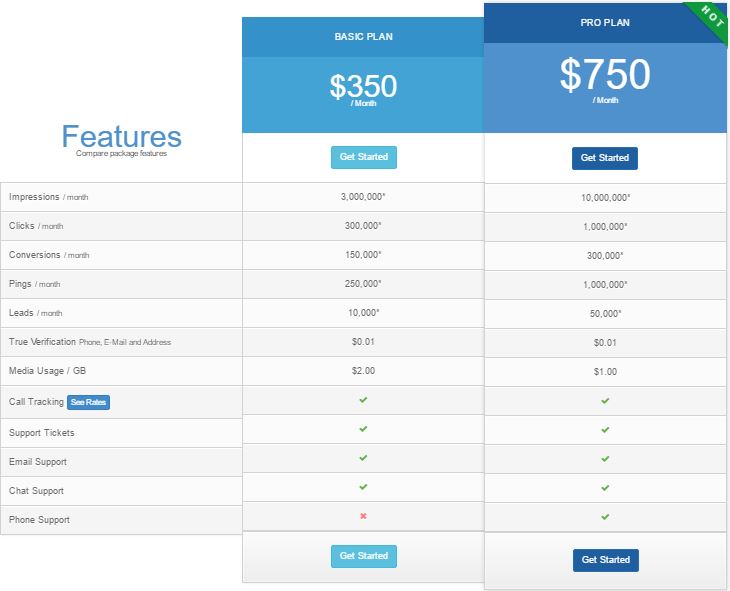 Pros & Cons
Pros:
Many services in one platform
30-day free trial
24/7 bilingual support (at least that's what they promise)
Modern platform
Cons:
Do You Want a
FREE
& Easy-to-Follow
7-Day Course
to
Make Money Online
for Beginners?
Easy-to-Follow

Beginner-Friendly

My Personal 1-on-1 Support for You
Get Started for FREE Below Before this offer goes away!
You must be producing money with it. Otherwise, it can become very expensive.
I didn't get an answer from their support
My Final Opinion of LeadsPedia
LeadsPedia seems like a useful to tracking leads, calls and other things to grow your business. However, the price of LeadsPedia is so high that your business needs to already be a quite big in order to have a benefit of this tool. Otherwise, you will just end up losing money. I believe that you can track your statistics with much cheaper tools than LeadsPedia.
One great way to improve your online business is to get ranked better on Google. Then you can get more traffic to your website. More traffic will eventually mean more customers and more money flowing in. Wealthy Affiliate provides a step-by-step training on how to build an online business. There you will learn the best strategies on how to get top rankings in Google. I know from my own experience that their methods work. You will really get to the top of Google if you follow their training.
Another great thing in Wealthy Affiliate is that you can connect easily with other successful online entrepreneurs. You can share your progress with them and get feedback on how to grow your business. In addition, WA is much cheaper than LeadsPedia or any other similar service. You can create a free account and premium membership is not very expensive either.
=> Want to Create/Boost an Online Business? Take a look to Wealthy Affiliate!
LeadsPedia at a Glance…
Name: Leadspedia
Website: www.LeadsPedia.com
Price: 30-day free trial. Then $350/month.
Field: Tracking Software
VERDICT: LEGIT.
Have you used LeadSpedia or other similar tracking software to boost your online business? Leave a comment below!