Update to Garrett Barry Review 31.7.2017
My original review of Grow With Garrett (that you can find below) is almost 2 years old. Many things have changed over the time course.
Garrett Barry has built his presence online in several social medias like YouTube and Instagram. His main strategy is to build an email list and promote different products for his list. The main product that Garrett is promoting is Motor Club of America (MCA).
Want to Get My 7-Day Email Course to Make Money Online?
Enter Your Email Below to Steal My PROVEN Formula to Create Your Own "Money-Making Machine" In a Week...
We respect your privacy. No Spam.
MCA is a controversial MLM that many people are criticizing the Internet.
There's no doubt at the moment that Garrett is making a big money online. On his Instagram account, you can see his new lifestyle that he achieved with online marketing. Anyway, it doesn't guarantee that you should join his list and start buying products. MCA is a controversial system and I would make an in-depth research before investing any money in their program.
Most of Garrett's YouTube videos are just short 5-minute promotions where he asks the viewer to click his link to join his email list. It's an interesting strategy but it seems to work surprisingly well.
I make most of my money online through methods that I learned in Wealthy Affiliate. Even though there are many full-time online entrepreneurs in WA like myself, their program is also very beginner-friendly. Most people start without any experience with making money online.
List building methods aren't always so beginner-friendly because it will cost lots of money to do paid advertising if you don't know what you are doing.

---
Old Garrett Barry Review from 2015
Name: Grow with Garrett
Website: growwithgarrett.com
Price: Depends on how much you are willing to give
Owner: Garrett Barry
Overall Rank: 0 out of 100
Who is it for? Not recommended. (Check Out My #1 Recommendation, 98 Out of 100)
---
Typical Scam Promises – Huge Money in a Little Time
To go straight into point Grow With Garrett seems to be another scam on the internet. It doesn't seem reliable at all and I WARN YOU: stay far from it!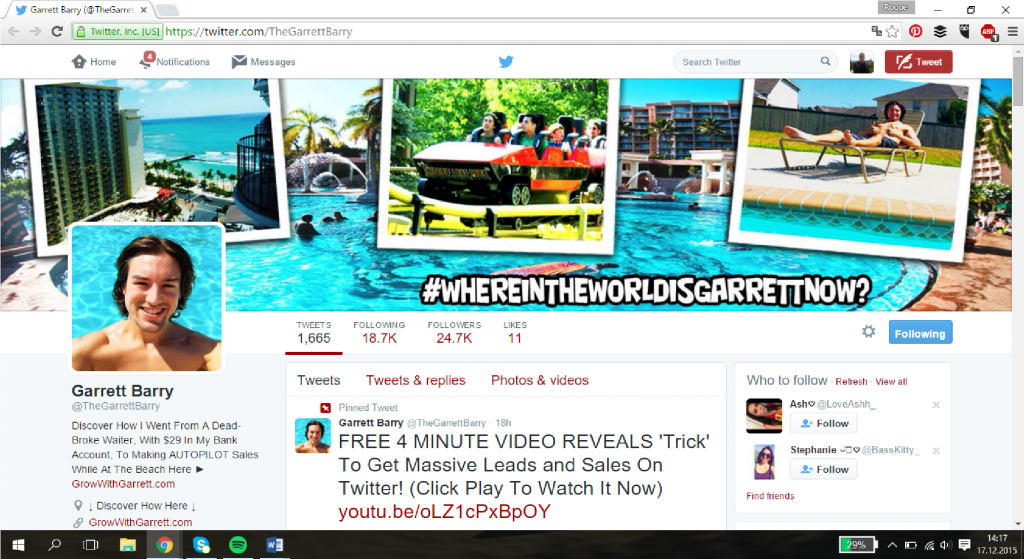 As you can see, his Twitter page looks very appealing. It reflects the lifestyle that you can travel anywhere you want while making money online. That was the reason I got interested and followed his profile.
Then Garrett send me (probably an automatic) message and asked me, "are you interested in making money online?" As you know I am very interested in the theme and said "Yes!"
He started to sell his program.
No Information Without Paying
That is the point where the website leaves you. It only tells you how much you can make money in a little time but actually doesn't tell you any details about the program. That doesn't seem reliable.
When I said to Garrett on* Twitter that his program seems to be a scam in my eyes he didn't answer me anymore. He didn't tell me anything more about his program or tried to defend that it's not a scam.
Garrett Barry Program – Quite Unknown on the Internet
No reviews, no information, no testimonials. You can't find anything about the program. I don't want to put my money in some program that I don't know anything about.
Similar Pages Found
There are actually similar websites using the same page in internet offering other programs with the same testimonies.
You can see for example http://www.bimaction.com/ which leads to the same page. It also seems to expire today (and every day is the last day). It also uses the same video with the same testimonials trying to convert you.
And the most importantly it tries to take you money without telling any details about the program.
Grow With Garrett at a Glance
I hope you found this review useful and hopefully it can save some euros from your pocket.
If you have any questions or comments, please leave them below!
My Recommendation
If you are interested in making money online I recommend trying 100% legit Wealthy Affiliate program. It doesn't give you oversize promises and you can find hundreds or probably thousands of reviews about it on the internet.
You can start Wealthy Affiliate FOR FREE like I did. 0$. Not like Garrett Barry who wants your money without providing any information about the program.